Back to News List
BHBIA NEWS
BOBI Real-life Submissions - celebrate the projects you're most proud of
November 15th, 2023
Get ready to showcase your brilliant projects at the BOBI Awards 2024, where real-life achievements take centre stage across five categories:
Best Business Impact

Best Customer Insight
Best Use of Innovation
Best Patient-Centric Approach
The Chair's Award: Best Approach to DE&I
While the first four categories have a well-established legacy of drawing in top-notch entries, this year, the awards include the Chair's Award for Diversity, Equity, and Inclusion (DE&I). This is an opportunity to gain recognition for your efforts in this crucial area and will be awarded for an approach which applies a clear DE&I focus and leads to a decision which had an impact on the UK business and/ or patient access to medicine.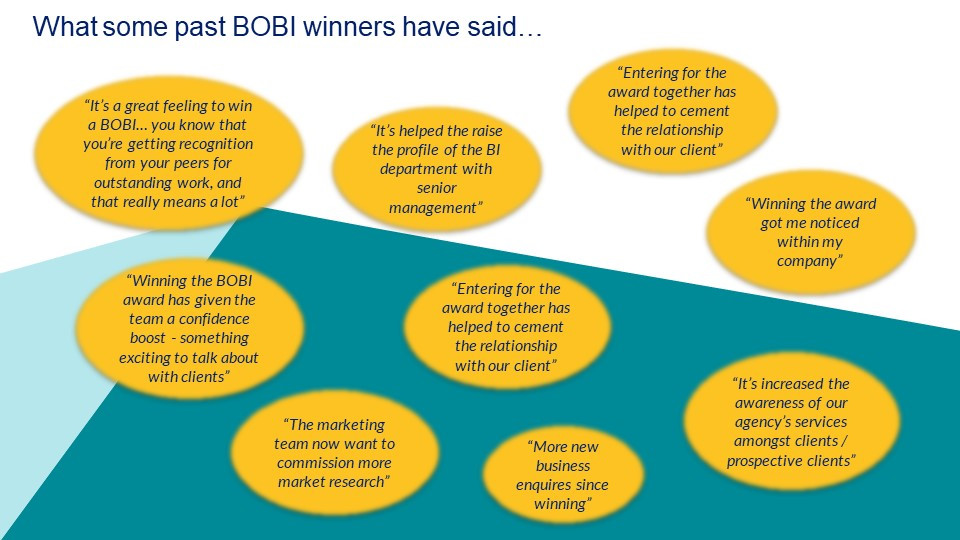 Entries open on 1st December but now is a good time to start planning which projects to enter and gaining any initial agreement to take part.
What's involved?
Craft your submission in Powerpoint. You can draw on slide content from your internal / client presentations, ensuring alignment with the BOBI brief and obtaining necessary approvals.
Complete a simple entry form, detailing your project team and uploading your submission. You can also specify any competitor exclusions for judging.
Rules are in place to ensure an even playing field for all participants, with clear guidelines on slide limits, video content, and branding.
When entries open, we'll share the judging criteria plus tips on how to make your entry stand out.
Need inspiration? Check out the past BOBI winners.
Here is our 2023 real-life submissions winners' gallery - next year, it could be your moment to shine!
Timeline for the BOBI Awards 2024
1st December 2023: Entries open - Complete an entry form and upload your submission any time between now and the deadline
5th February 2024, 5pm: Entry deadline
March 2024: Judging takes place
April 2024: Finalists announced
13th May 2023: Awards Ceremony part of the BHBIA Annual Conference at the Hilton London Wembley
Look out for an email from the BHBIA when entries open or head to the BOBI Awards section of the website on 1st December.
The BHBIA is very grateful to the following companies for their support of the BOBI Real-life Submissions 2024 and for their commitment to supporting excellence in business intelligence:
Beyond Blue - Best Use of Innovation (three-year sponsor)

Boehringer Ingelheim - The Chair's Award: Best Approach to DE&I

CREATION.co - Best Business Impact (three-year sponsor)

Sanofi - Best Patient Centric Approach

Survey Healthcare Global Best Customer Insight (three-year sponsor)