Back to News List
BHBIA NEWS
BOBI real-life submissions - celebrate the projects you're proud of
November 15th, 2021
ENTRIES ARE NOW OPEN - CLICK HERE TO ENTER (DEADLINE 14 FEBRUARY 2022, 5PM)
For 2022 you have a choice of 5 categories in which to submit entries based on real-life programmes and projects
New this year:

'The Chair's Award: Best response to COVID-19'
joins the established categories:
Best Business Impact
Best Customer Insight
Best Use of Innovation
Best Patient-Centric Approach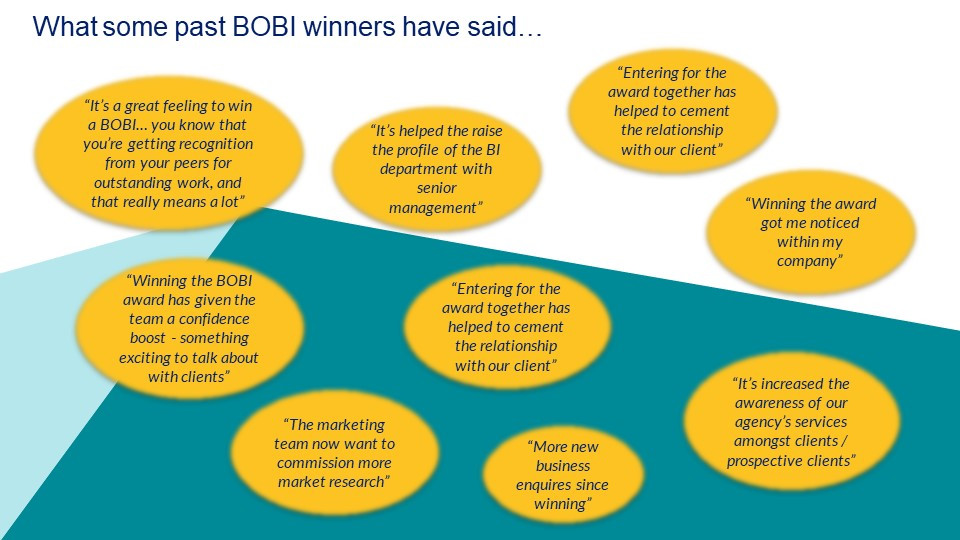 Entries will open in December and it's free to enter, but now is a good time to start planning which projects to enter and gaining any initial agreement to take part.

Checkout the Past BOBI Winners section of the website to see what sorts of projects have won in the past (but don't let that constrain your thinking).
What's involved?

Create your submission in PowerPoint. You will probably already have some slide content from internal / client presentations that can be repurposed to meet the BOBI brief. Make sure you get the necessary approvals.
Fill in a simple entry form to tell us who's worked on the project, and upload your submission. At this point you'll be able to tell us if there are any competitor companies who should be excluded from the judging panel for your category.
To ensure we have a fair competition for everyone there are a few 'rules' - e.g. limits on slide numbers and video content, restrictions on branding - but these are clearly explained in the entry information and easy to follow.
We also provide lots of general hints and tips on how to make your entry stand out (you can see some of these via the link on the right hand side of this page), as well as category-specific guidance on what to include and the specific criteria your entry will be judged on.
You'll find full details in the BOBI section of the website when entries open.
Here's a look at some of the 2021 winners reacting to their wins - next year it could be you, with the added bonus of being on stage to receive your trophy!
On video we have:
Su Smith, Origins Insights - 2021 Winning Team - Best Patient-Centric Approach (right)
Kelly Warth, Instar Research - 2021 Winning Team - Best Customer Insight (below left)
Sian Thapar, Hall & Partners - 2021 Winning Team - Best Use of Innovation (below right)


Timeline for the 2022 BOBI Awards:
3rd December 2021: Entries open - complete an entry form and upload your submission any time between now and the deadline
14th February 2022, 5pm: Entry deadline
March 2022: Judging takes place
April 2022: Highly-commended finalists announced
16th May 2022: Awards Ceremony - part of the BHBIA Annual Conference at the Millennium Gloucester Hotel, Kensington, London
Look out for an email from the BHBIA when entries open - or head to the BOBI Awards section of the website on 3rd December.