Back to News List
BHBIA NEWS
Patient focused research to inform Regulatory and HTA assessment - course review
June 22nd, 2021
HTAs are increasingly considering the views of the patients, family and carers, and patient advocacy groups in their decision making regarding the reimbursement and access to therapies. This half day workshop took place on 10th June.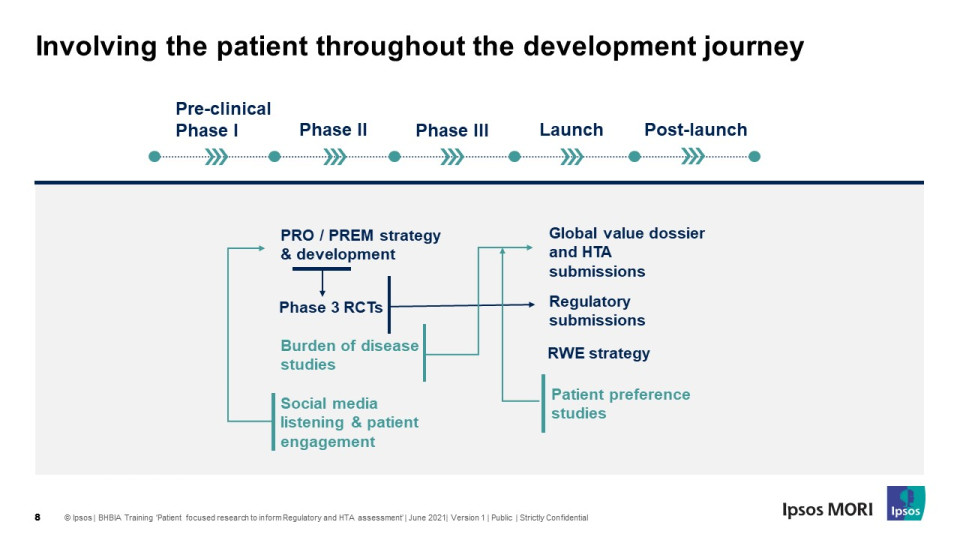 The course was run for us by Ipsos Healthcare: Chris Teale - Senior Vice President Market Access, Samantha Morrison - Vice President Market Access and Jörn Kleebach - Senior Client Director. We are very grateful for their time and expertise.


The Ipsos team commented:
"It made us think and realise the importance of thinking ever earlier in the drug development process.
The attendees were engaged and took on board the main messages...
Demonstrating value in regulatory and HTA/pricing negotiation, through patient focused research, and using and fusing multi-source data needs forethought, planning, and investment of time and money.
It is not a quick fix when you get to registration. It is a critical factor for the product's success.
Data is an investment and should be evaluated as such. The cost of not having may far exceed the cost of generating.
The increased importance of the patient perspective in both regulatory and health technology assessment was clear".
Delegate feedback:
Comments from the delegates included:

"I found why the role of patient voice is becoming more important in drug development very interesting - and practical examples were useful as well as the breakout groups"

"The content of the presentations was very interesting and well-pitched. It was also good to see case studies relating to the types of projects they were discussing."