Back to News List
BHBIA NEWS
'Delivering the Sizzle, not just the Sausage' - course review
March 10th, 2021
This half-day workshop, focused on effective presentation delivery skills - for both face to face and virtual situations.
The aim was to give delegates the opportunity to develop and refine their presentation delivery skills in a totally safe environment, thus increasing their capability and confidence in delivering insightful, trust-enhancing and memorable messages. (See full course details here)
Professional trainer Daniel Wain, Founder Director of Daniel Wain Consulting Ltd., who ran the fully-booked session for us, said:
"I think you could certainly say that I was pleased, and relieved, at how well the session went, particularly as it was the first time that we had delivered this session for BHBIA. I was delighted to have a full house, comprised of a disparate (but not desperate) group of participants, all of whom engaged fully from start to finish. Despite it being a very intensive day, requiring considerable interaction and meticulous timekeeping, everyone remained focused, vocal and open to learning new tips, tricks and techniques throughout. What was most rewarding was to see how everyone had improved in terms of both ability and confidence by the end of the session. It's rare that a trainer is able to see such tangible, concrete change at the end of a one-day workshop, so I was thrilled. I only hope that the participants felt as equally positive!"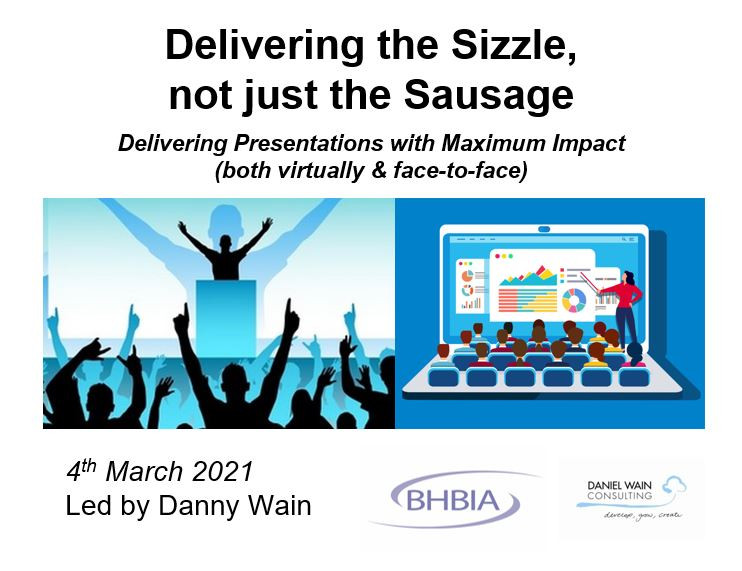 Delegate feedback
Comments from the delegates included:

"...The relaxed and fun way the host curated the meeting and made everyone feel at ease and comfortable with presenting."
"I thought the logistics worked superbly. We all had the chance to leave the meeting when other's presented, allowing some respite and avoided the feeling of the day being endured. I wouldn't change anything."
"One-to-one training was very valuable, and gave the chance to gain tailored advice; something I didn't expect on such a personal level."
You'll be able to hear more from Danny at his workshop 'Why Should Anyone Listen to You? - Increase your personal influence & impact', during the BHBIA Annual Conference on the afternoon of Tuesday 11th May 2021.
See full Conference programme here and book your 3-day ticket now (early-bird discount until 9th April)