Back to Event Details
BHBIA Awards for the Best Conference Paper, Best Training Session and Most Engaging Stand
Each year the BHBIA presents two awards to recognise excellence at the Annual Conference. These are awarded to the facilitators/presenters achieving the highest scores, as voted on by the delegates attending the event.
The Keith Munro Award is for the Best Paper
2019 Winner:
Developing & Deploying a Predictive Analytics System to Improve Health Outcomes and Use of Resources in Mental Healthcare
Jim Michael, Analytics Lead, Otsuka Healthcare (OHS) and Neil Osmond, Managing Director, Earthware


This enlightening presentation revealed the challenges, learnings and outcomes from a cutting-edge approach to using data and predictive analytics to improve the lives of people using mental health services.
The John Wheeler Award is for the Best Training Session
2019 Winner:
Measuring the Value of Healthcare Professionals' Time
Mary Roper Knowles, Managing Director – Loyalty Chain
The largest proportion of the NHS £125 billion budget is spent on employing dedicated HCPs. This session explored the tools and techniques that can be used to research and evaluate HCP time. It also identifies and measures the proportion of time HCPs spend on activities that patients value the most. As pharmaceutical and health care companies introduce new technologies and services measuring their impact on HCPs' time could be of great benefit.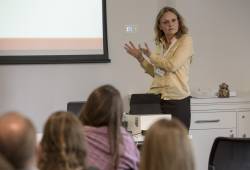 Most Engaging Stand
The "most engaging stand" competition is for agencies exhibiting at the Agency Fair - to encourage agencies to make extra effort to ensure that their stands are memorable, interesting/relevant and offer something a little bit different.
Congratulations to Basis Health, who won this year's award.